Who is Alice Eve?
Alice Eve, born on February 6, 1982, in London, is an accomplished English actress known for her roles in film, TV, and theater. With her versatile acting and captivating presence, she has left a mark on the entertainment industry.
Eve gained recognition in the mid-2000s through British TV series such as "The Rotters' Club" and "Agatha Christie's Poirot." Her talent and beauty propelled her to Hollywood, where she starred in movies like "She's Out of My League" (2010) and "Star Trek Into Darkness" (2013), showcasing her comedic and dramatic skills.
Her career spans diverse genres, highlighting her adaptability. Notably, she delivered compelling performances in theater productions like "Farragut North." Beyond acting, Eve's elegance has drawn attention from the fashion world.
Her reputation as an actress is complemented by her influential presence. Despite maintaining a private life, her impact resonates in the entertainment realm. Alice Eve's journey continues to shape her legacy in the industry.
Early Life of Alice Eve
Alice Eve, born in London on February 6, 1982, had an early life that contributed significantly to her later achievements as an actress. Her family background was immersed in the entertainment world—her father, Trevor Eve, and mother, Sharon Maughan, were both involved in acting. This familial connection likely nurtured her interest in the performing arts from a young age.
Eve's educational journey included attendance at Bedales School, an institution recognized for fostering artistic talents. This period of her life likely played a crucial role in shaping her artistic inclinations. Following her time at Bedales, she continued to pursue her passion for acting by enrolling at the Beverly Hills Playhouse in California. This decision exposed her to a competitive and diverse environment that contributed to her growth as a performer.
Beyond her artistic pursuits, Eve demonstrated academic excellence during her early years. Excelling in her A-levels, she had opportunities to attend prestigious universities. However, her commitment to acting led her to prioritize her career in the entertainment sector.
These foundational experiences, enriched by her creatively oriented upbringing, education, and training, formed the basis for Alice Eve's eventual success as an actress. They provided the necessary tools, knowledge, and inspiration for her to embark on a journey that established her as a versatile and esteemed figure in the realm of film, television, and theater.
The Career of Alice Eve
Alice Eve, born on February 6, 1982, in London, UK, has cultivated a dynamic career marked by her diverse roles in film, television, and theater. Her journey showcases her multifaceted talent and unwavering commitment to the entertainment world.
Eve's ascent began in the mid-2000s when she graced British television screens in acclaimed series like "The Rotters' Club" and "Agatha Christie's Poirot." These early portrayals hinted at her potential, a glimpse into the success that would follow. Transitioning stateside, she embraced her comedic prowess in films like "Starter for 10" (2006) and "Big Nothing" (2006), underlining her capacity for both drama and humor.
The pivotal year 2010 saw Eve in the charming role of "She's Out of My League," where her charisma and wit resonated with audiences. However, it was her role as Carol Marcus in "Star Trek Into Darkness" (2013) that propelled her into global stardom. Her portrayal of the enigmatic scientist highlighted her adeptness at delving into intricate characters within high-profile productions.
Eve's career trajectory continued to unfold across genres, showcasing her versatility. In "Before We Go" (2014), directed by Chris Evans, she embraced the complexities of a suspenseful narrative. Similarly, her presence in the psychological horror "The Raven" (2012) demonstrated her commitment to multifaceted storytelling. The legal thriller "Misconduct" (2016) further underscored her range in navigating intricate plots.
Beyond her film ventures, Eve's talent transcends to the theater. Notable productions like "Rock 'n' Roll" (2006) and "Farragut North" (2008) showcased her dedication to both the big screen and stage.
Eve's impact expands beyond acting alone. Her beauty and elegance have led to collaborations within the fashion industry. Her seamless transitions across genres reflect her dedication and artistry.
Alice Eve's journey from her roots in British television to her present status as a global entertainment figure is a testament to her versatility. Her seamless navigation of diverse roles, mediums, and genres speaks to her unwavering commitment to the craft. As she continues to evolve, her status as a respected and sought-after talent remains solidified.
Personal Life of Alice Eve
Alice Eve, born in London on February 6, 1982, maintains a discreet personal life that she has chosen to keep largely private. Growing up in a family deeply involved in the entertainment industry, with her father being actor Trevor Eve and her mother being actress Sharon Maughan, likely influenced her own career path and early interests.
Eve's personal life, aside from her career, has attracted limited public attention, revealing few details about her relationships and personal experiences. Her education included attending Bedales School, renowned for its creative atmosphere, which might have played a role in shaping her artistic inclinations.
While Alice Eve's professional pursuits have garnered recognition, her personal achievements also encompass academics. Excelling in her A-levels, she showcased her intellect alongside her acting abilities. Nevertheless, her dedication to her entertainment career led her to prioritize that path.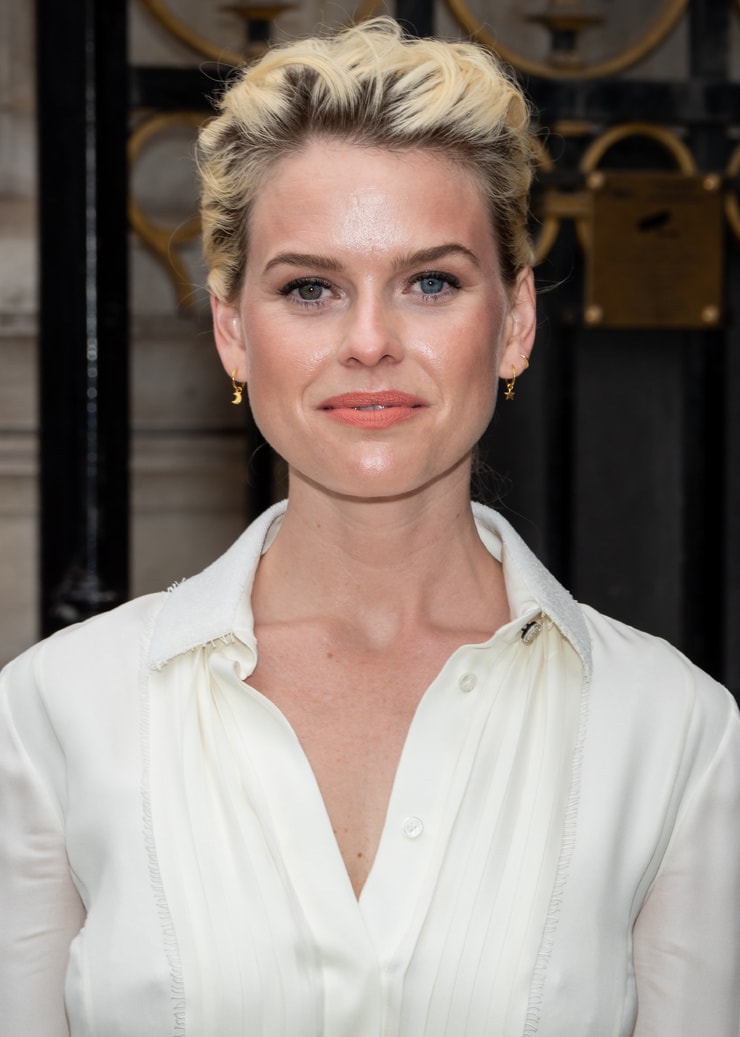 Eve's relationships remain a subject of curiosity due to her guarded approach. While she has been linked with notable individuals, such as her past engagement to financier Alex Cowper-Smith, her overall approach to personal matters remains enigmatic.
In addition to her acting, Eve's physical charm and grace have captured the fashion industry's attention. Engaging in various campaigns and collaborations, she has showcased her sense of style and elegance.
Alice Eve's personal life remains veiled in privacy, allowing her to retain an air of mystery that complements her multifaceted roles on screen. Amid her noteworthy professional accomplishments, her personal journey and relationships remain concealed, underscoring her choice to maintain a low profile in that aspect of her life.
Physical Statistics of Alice Eve
| | |
| --- | --- |
| Height | Approximately 5 feet 5 inches (165 cm) |
| Weight | Approximately 119 pounds (54 kg) |
| Eye Color | Blue |
| Hair Color | Blonde |
| Bust | Approximately 34 inches (86 cm) |
| Waist | Approximately 25 inches (64 cm) |
| Hips | Approximately 35 inches (89 cm) |
| Dress Size | US 4 |
| Shoe Size | US 7 |
Net Worth of Alice Eve
Alice Eve's approximate net worth was $6 million. Her wealth primarily stems from her successful career in the entertainment sector, spanning film, TV, and theater.
Eve's breakthrough roles, both in the UK and Hollywood, significantly contributed to her financial standing. Notable appearances in films like "She's Out of My League" and "Star Trek Into Darkness" not only boosted her recognition but also augmented her earnings. Alongside acting, she has engaged in modeling and fashion collaborations, potentially adding to her income.
Interesting Facts about Alice Eve
Comes from a family of actors: Her father Trevor Eve and mother Sharon Maughan are both accomplished actors.
Educated at Bedales: Attended Bedales School, known for nurturing creativity.
Multilingual: Fluent in English, French, and Italian.
Theater experience: Acted in theater productions like "Rock 'n' Roll."
Academic excellence: Achieved impressive A-level results alongside her acting pursuits.
Star Trek role: Gained prominence as Carol Marcus in "Star Trek Into Darkness."
Modeling ventures: Explored modeling, participating in campaigns.
Academic background: Holds an Oxford English degree, studied psychology at Beverly Hills Playhouse.
Travel enthusiast: Enjoys traveling to various destinations.
Interest in mysteries: Shown fascination for unsolved mysteries and paranormal subjects, even appearing on related TV programs.
FAQs about Alice Eve
Q: When was Alice Eve born?
A: Alice Eve's birthdate is February 6, 1982.
Q: Who are Alice Eve's parents?
A: Her parents are individuals with careers in the entertainment industry.
Q: What is Alice Eve recognized for?
A: She's recognized for her involvement in various entertainment sectors, including a notable movie role.
Q: Where did Alice Eve receive education?
A: She pursued education at several institutions, enhancing her skills in different fields.
Q: Which languages does Alice Eve speak?
A: Alice Eve is skilled in communicating in multiple languages.
Q: What major movie series did Alice Eve join?
A: She became a part of a popular movie franchise, portraying a significant character.
Q: Has Alice Eve explored opportunities beyond acting?
A: Yes, she has participated in endeavors beyond her primary profession.
Q: What's the academic background of Alice Eve?
A: She possesses academic qualifications from renowned educational institutions.
Q: Does Alice Eve have interests beyond her career?
A: Yes, she's shown curiosity about intriguing and unexplained subjects.
Q: Is Alice Eve enthusiastic about exploration?
A: Yes, she displays an interest in journeying to diverse locations globally.
Conclusion
Alice Eve's diverse talents have made her a prominent figure in entertainment. Her upbringing in a family connected to acting nurtured her path. Excelling in languages and academics, she gained a well-rounded education.
Eve's breakthrough roles, spanning British and Hollywood productions, highlighted her adaptability. Beyond acting, she ventured into modeling and fashion endeavors, broadening her influence. Notably, her participation in the "Star Trek" franchise solidified her international recognition.
Amid her artistic pursuits, Eve's intrigue extends to enigmatic subjects. Her curiosity is evident in her travels and eclectic interests, underscoring her multifaceted nature.
Alice Eve's evolving career, influenced by her heritage, linguistic talents, and captivating screen presence, positions her as a respected and enigmatic entertainer. Her journey, a fusion of familial legacy, academic excellence, and on-screen versatility, defines her as a significant and engaging personality in the entertainment realm.