Who is Karl Urban?
Karl Urban, born on June 7, 1972, in Wellington, New Zealand, is a prominent actor celebrated for his roles in film and television. He gained global recognition for his performances in different genres, showcasing his versatility and skill.
Urban's breakthrough came through his portrayal of Éomer in the famous "The Lord of the Rings" trilogy, directed by Peter Jackson. His rugged depiction of the Rohan warrior underscored his acting ability. He later embraced science fiction by embodying Dr. Leonard "Bones" McCoy in the reimagined "Star Trek" film series, redefining the iconic character.
Urban's diverse talent shines beyond these franchises. He seamlessly transitions between roles, portraying a stern lawman in "Dredd," an enigmatic assassin in "The Bourne Supremacy," and a formidable antagonist in "Thor: Ragnarok." His performances resonate due to his profound immersion in characters.
Television also witnessed Urban's presence. His portrayal of Billy Butcher in the adaptation of the "The Boys" comic, created by Garth Ennis and Darick Robertson, added to his legacy. The series explores vigilante justice against corrupted superheroes.
Karl Urban's dynamic performances continue captivating audiences. His captivating screen presence, adaptability, and dedication distinguish him in cinematic and television landscapes.
Early Life of Karl Urban
Karl Urban, born on June 7, 1972, in Wellington, New Zealand, spent his early years surrounded by the natural beauty of his homeland. He developed an affinity for creative expression from a young age, finding inspiration in the artistic atmosphere of his surroundings.
Attending educational institutions like St. Mark's Church School and Wellington College, Urban's passion for the performing arts deepened. He engaged in various extracurricular activities related to drama and theater, showcasing his burgeoning talent for acting.
Urban's family played a significant role in fostering his artistic ambitions. Their encouragement and support provided him with the confidence to explore his talents further. Through involvement in local productions and school performances, he gained valuable experience and refined his craft.
The unique cultural and geographical aspects of New Zealand also left an indelible mark on Urban's early life. The stunning landscapes and rich heritage of his homeland would later intertwine with his professional journey.
In essence, Karl Urban's formative years in Wellington laid the groundwork for his future in the entertainment industry. His exposure to the arts, education, and the scenic beauty of New Zealand all contributed to shaping his identity as an actor. These early experiences would go on to influence his career decisions and artistic inclinations in the years to come.
The Career of Karl Urban
Karl Urban's professional journey in the entertainment field has been marked by his adaptability and unwavering commitment to a range of roles in both cinema and television. Originating from his home country, Urban expanded his horizons globally.
Urban gained prominence by embodying Éomer in the renowned "The Lord of the Rings" film trilogy, a creation by Peter Jackson. His portrayal depicted a balance between strength and vulnerability, resonating with audiences on a worldwide scale.
Diving into science fiction and fantasy, Urban clinched a significant part as Dr. Leonard "Bones" McCoy in the revamped "Star Trek" film series. His interpretation retained the essence of the character while introducing his unique touch, contributing to the series' contemporary appeal.
Urban's multifaceted talents shone in the gritty action movie "Dredd," where he embraced the titular role. His portrayal of a resolute law enforcement officer, despite the film's challenges, showcased his dedication and prowess as an actor.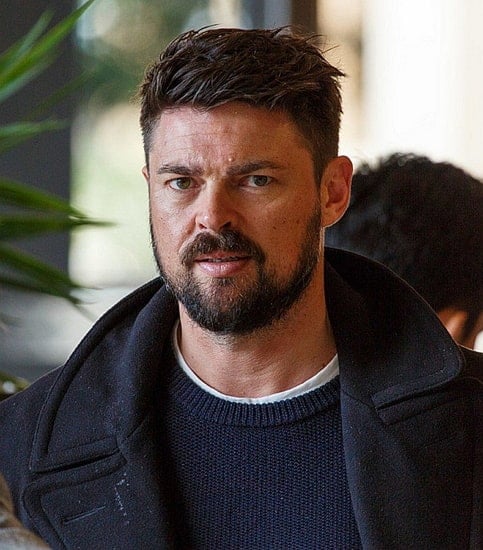 His flexibility extended to other genres, portraying roles ranging from a mysterious assassin in "The Bourne Supremacy" to a formidable antagonist in Marvel's "Thor: Ragnarok." Urban's seamless transition between diverse characters highlighted his skill and authenticity on screen.
Television was no exception to Urban's prowess, as evidenced by his standout performance as Billy Butcher in the TV adaptation of the graphic novel series "The Boys." His portrayal of a vigilante seeking retribution against corrupt superheroes was both multifaceted and captivating, elevating the show's character-driven narrative.
Karl Urban's career is a testament to his devotion to his craft and his willingness to embrace a wide spectrum of roles. His commitment to authenticity is evident in his immersive performances, which have garnered praise from fans and critics alike. From sprawling fantasy universes to the more grounded world of television, Urban's impact on the entertainment realm remains enduring and significant.
Personal Life of Karl Urban
Karl Urban, the accomplished actor hailing from Wellington, New Zealand, and born on June 7, 1972, keeps his personal life relatively shielded from the public gaze. He maintains a discreet demeanor regarding his personal affairs, ensuring a clear separation between his career and private matters.
Urban's formative years in the stunning New Zealand landscape profoundly influenced his affinity for outdoor pursuits. His interests span sports like rugby and leisure activities such as motorcycling, which he finds invigorating and freeing.
A devoted family man, Urban places a high value on quality time with his loved ones. However, he is notably reticent about sharing details about his family life, keeping their privacy intact.
Despite his fame, Urban remains grounded and unpretentious. His colleagues frequently commend his professionalism and approachable nature on set. His unwavering commitment to his craft and determination to deliver exceptional performances contribute to his favorable standing within the industry.
Urban's involvement in charitable endeavors underscores his compassionate side. While specifics are often undisclosed, he is associated with various philanthropic causes, reflecting a genuine desire to effect positive change beyond his acting career.
During interviews, Urban passionately discusses his acting process and expresses gratitude for the opportunities he has encountered. While he maintains a low profile on personal beliefs and political matters, he readily engages in conversations about his work and the transformative experiences that inform his roles.
Karl Urban's personal life remains defined by his strong family ties, a penchant for outdoor exploration, and a commitment to maintaining a balance between public exposure and personal privacy. His capacity to uphold this equilibrium contributes to his enigmatic allure as an esteemed actor.
Physical Statistics of Karl Urban
| | |
| --- | --- |
| Height | 6 feet 1 inch (1.85 m) |
| Weight | 80 kg (176 lb) |
| Chest | 43 inches (109 cm) |
| Waist | 86 cm (33.9 in) |
| Biceps | 16 inches (41 cm) |
| Shoe Size | 10 US |
Net Worth of Karl Urban
Karl Urban is a Kiwi actor from New Zealand who has a net worth of $20 million. Karl Urban, the esteemed actor with New Zealand origins, has achieved a notable financial standing through his thriving career in both film and television. Born on June 7, 1972, in Wellington, Urban's diverse performances have contributed significantly to his financial success.
Urban's emergence in the "The Lord of the Rings" trilogy marked the beginning of his Hollywood journey. His portrayal of Éomer garnered global acclaim and paved the way for more opportunities. Subsequent involvement in high-profile projects like the "Star Trek" series, "Dredd," and Marvel's "Thor: Ragnarok" showcased his adaptability and attracted substantial audiences.
Television has also bolstered Urban's financial status, with his role as Billy Butcher in the adaptation of "The Boys" enhancing his portfolio. These endeavors, coupled with his unwavering commitment, have had a positive impact on his financial outlook.
In addition to acting, Urban's participation in various ventures, endorsements, and public appearances contributes to his financial portfolio. While his precise net worth is subject to fluctuation due to multiple variables, including project success and investments, his earnings from both the silver screen and television have undoubtedly positioned him well.
Urban's financial accomplishments reflect his talent, dedication, and skill in captivating audiences across diverse platforms. His multifaceted trajectory not only solidifies his stature in the entertainment realm but also positions him among the well-compensated figures in the industry.
Interesting Facts about Karl Urban
– Born in Wellington, New Zealand, on June 7, 1972.
– Gained fame as Éomer in "The Lord of the Rings" trilogy.
– Played Dr. Leonard "Bones" McCoy in "Star Trek" reboot.
– Enthusiastic motorcyclist and enjoys riding.
– Took on the role of Skurge in "Thor: Ragnarok."
– Has an interest in rugby and supports teams.
– Portrayed protagonist and antagonist in "Dredd."
– Developed an appreciation for the "Dredd" comics.
– Showcased versatility as Billy Butcher in "The Boys."
– Values privacy despite his celebrity status.
FAQs about Karl Urban
Where was he born?
He was born in a coastal city.
What famous character did he play in a fantasy series?
He portrayed a brave warrior in a well-known trilogy.
Who was his role in a space franchise?
He embodied a medical professional in a futuristic series.
What leisure activity does he enjoy?
He finds joy in cruising on two wheels.
Who was his character in a superhero movie?
He took on a complex role in a Marvel film.
What sport captures his interest?
He's a supporter of a contact sport.
In which film did he showcase his duality?
He portrayed both a hero and antagonist in a sci-fi movie.
How did his role influence his appreciation for comics?
His film role deepened his liking for graphic stories.
Which TV series highlighted his versatility?
He displayed his adaptability in a gritty show.
How does he handle his personal life as a well-known figure?
He maintains his personal space despite his fame.
Conclusion
Karl Urban's remarkable journey in the entertainment realm stands as a testament to his unique talents, versatility, and unwavering dedication. His origin story in New Zealand, intertwined with his global recognition, weaves a narrative of iconic roles, diverse personas, and consistent pursuit of excellence.
His embodiment of Éomer in "The Lord of the Rings" trilogy served as his initiation into the international spotlight, showcasing his ability to fully inhabit intricate characters within epic sagas. Subsequent endeavors, including his portrayal of Dr. Leonard "Bones" McCoy in the revamped "Star Trek" series and the enigmatic Billy Butcher in "The Boys," highlighted Urban's remarkable range, transcending genre boundaries and leaving an indelible impact on viewers.
Urban's inclination towards physically demanding roles, evident in productions like "Dredd" and "Thor: Ragnarok," underscores his unwavering commitment to his craft. He injects each character with layers of authenticity, captivating audiences through his nuanced performances.