Who is Yvonne Strahovski?
Yvonne Strahovski, born on July 30, 1982, is an accomplished Australian artist known for her dynamic contributions to the world of entertainment. She gained prominence for her role as a secret agent in a popular TV series from 2007 to 2012, showcasing her multifaceted talent.
Strahovski's career further evolved with her portrayal of a complex character in a widely praised series that began in 2017, earning her recognition and award nominations. She has also made appearances in notable films alongside prominent actors.
Apart from her artistic pursuits, Strahovski has found success in modeling and is dedicated to various philanthropic causes. Her multifarious skills and commitment to positive change continue to make her a notable figure in the entertainment industry.
Early Life of Yvonne Strahovski
Yvonne Strahovski, born in 1982 in Werrington Downs, Australia, led a low-key early life. Her original name was Yvonne Jaqueline Strzechowski. Raised in a suburban setting, she attended Santa Sabina College, where her interest in acting first sparked as she actively participated in school productions. Post-high school, she ventured into the world of acting, enrolling at the University of Western Sydney's Theatre Nepean.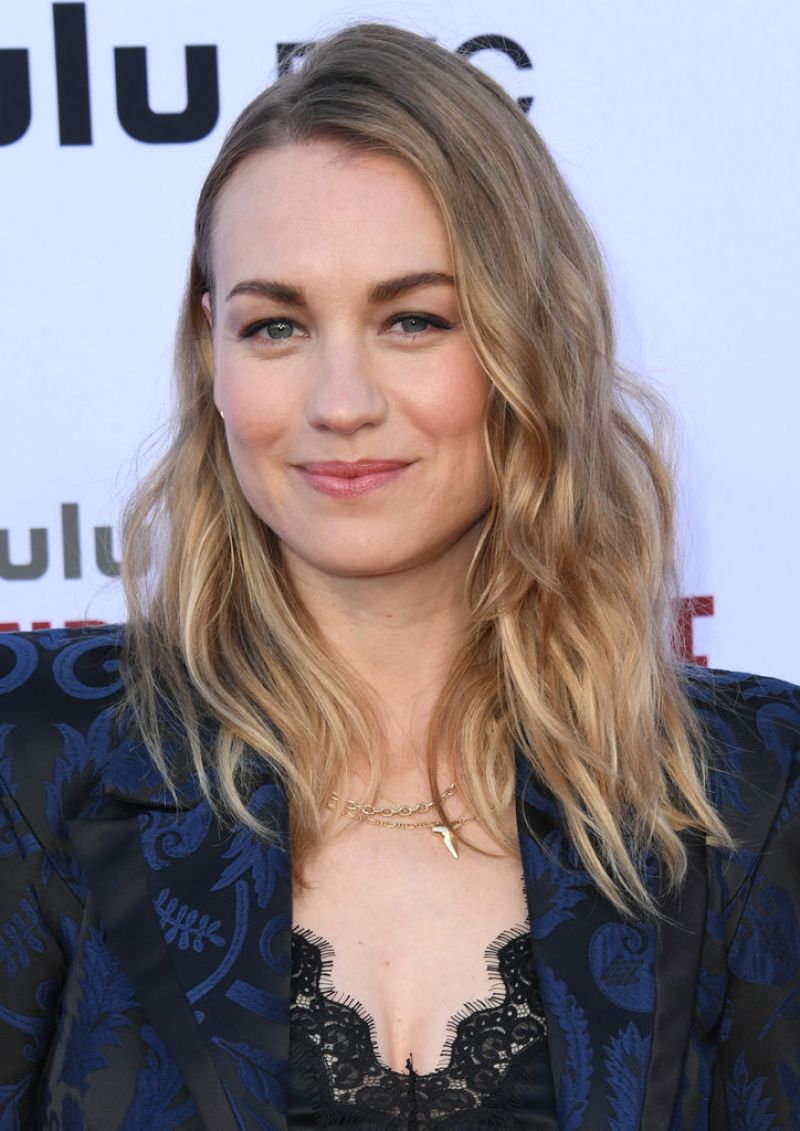 These formative years laid the groundwork for her future career. Driven by her passion for acting, she made the courageous move to the United States, seeking opportunities in Hollywood.
Yvonne Strahovski's journey from a typical Australian upbringing to international fame was shaped by her determination and dedication to her craft. Her path from these humble beginnings to becoming a renowned actress is a testament to her talent and unwavering commitment to her dreams.
The Career of Yvonne Strahovski
Yvonne Strahovski has carved an impressive path in the world of entertainment, showcasing her remarkable talent across various mediums.
She initially rose to prominence as Sarah Walker in the beloved TV series "Chuck" (2007-2012), where she portrayed a CIA agent. Her performance in this action-comedy series was a masterclass in blending humor, drama, and action, earning her critical acclaim and a dedicated fan following.
However, it was her role as Serena Joy Waterford in "The Handmaid's Tale" (2017-present) that truly catapulted her into the spotlight. In this dystopian drama, Strahovski brought a complex, morally ambiguous character to life, resulting in numerous award nominations, including Emmy recognition. Her ability to convey the intricacies of her character showcased her depth as an actress.
Strahovski's talent extends beyond television. She has made her mark in film as well, starring alongside esteemed actors in the psychological thriller "The Gift" (2015) and lending her voice to Batwoman in the animated "Batman: Bad Blood" (2016).
Personal Life of Yvonne Strahovski
Yvonne Strahovski, born Yvonne Jaqueline Strzechowski in Australia, keeps her personal life discreet. She got engaged to actor and producer Tim Loden in 2017 and became a mother to a son in 2018.
Although she occasionally shares glimpses of her family life on social media, she generally maintains privacy. Strahovski is an advocate for animal rights, working with organizations like PETA to raise awareness about animal welfare. This reflects her dedication to important causes alongside her thriving acting career.
At the 69th Primetime Emmy Awards in September 2017, Strahovski revealed that she had married Tim Loden (b. 1982), her partner of six years. They have two sons: the first born in October 2018,  and a second born in December 2021.
Net Worth of Yvonne Strahovski
Yvonne Strahovski is an Australian actress who has a net worth of $12 million. Yvonne Strahovski is best known for her roles on the hit television series "Chuck," "Dexter," and "The Handmaid's Tale."
She received an Emmy Award nomination for her work on the latter program. On the big screen, Strahovski has appeared in such films as "Killer Elite," "I, Frankenstein," and "He's Out There."
Physical Statistics of Yvonne Strahovski
| | |
| --- | --- |
| Height | 165 cm (5 ft 5 in) |
| Weight | 55-60 kg (121-132 lbs) |
| Body measurements | 34-25-35 inches |
| Hair color | Blonde |
| Eye color | Blue |
Interesting Facts about Yvonne Strahovski
– Born July 30, 1982, in Australia as Yvonne Jaqueline Strzechowski
– Fluent in English and Polish due to Polish immigrant parents
– Started acting on the Australian stage before gaining international recognition
– Auditioned for "Chuck" via a self-recorded tape
– Performed her own stunts in "Chuck"
– Acclaimed for her role as Serena Joy Waterford in "The Handmaid's Tale"
– Voiced Miranda Lawson in "Mass Effect" video game series
– Passionate about animal rights and collaborated with PETA
– Successful modeling career with top fashion brands and magazines
– Announced engagement to actor Tim Loden in 2017
– Gave birth to their son in 2018
– Enjoys outdoor activities like hiking and scuba diving
– Acclaimed for her role in the psychological thriller "The Gift"
– Ranked on lists of the world's most beautiful women
– Appeared in "I, Frankenstein" alongside Aaron Eckhart
– Won awards, including a Saturn Award for "Chuck"
– Played Kate Morgan in "24: Live Another Day"
– Fans refer to themselves as "Strahotskians"
– Active on social media, sharing personal and professional moments
– Remains grounded and values her Australian heritage.
FAQs on Yvonne Strahovski
Who is the actress with a Polish heritage born in Australia?
Yvonne Strahovski is an accomplished actress known for her diverse roles in TV and film.
What's her birthdate and birthplace?
Yvonne Strahovski was born on July 30, 1982, in Werrington Downs, New South Wales, Australia.
What was her original name?
Her birth name is Yvonne Jaqueline Strzechowski.
Which famous TV series propelled her to stardom?
Yvonne Strahovski gained fame through her role as Sarah Walker in "Chuck."
Has she won any major acting awards?
Yes, she has won accolades such as the Saturn Award for her work in "Chuck."
Is Yvonne Strahovski married?
Indeed, she is married to actor Tim Loden.
Does she have children?
Yvonne Strahovski and Tim Loden have one child, a son.
In what TV series does she portray Serena Joy Waterford?
She portrays Serena Joy in "The Handmaid's Tale."
Which video game character did she provide the voice for?
Yvonne Strahovski voiced Miranda Lawson in the "Mass Effect" game series.
What charitable causes does she champion?
She's a passionate advocate for animal rights and collaborates with PETA.
Has she appeared in movies?
Yes, she's been in films like "The Gift" and "I, Frankenstein."
What languages does she speak fluently?
Yvonne Strahovski is fluent in English and Polish.
Has she won any Emmy Awards?
She has received nominations but hasn't won an Emmy Award as of my last update in September 2021.
What's her estimated net worth?
Her net worth was roughly $12 million in 2021.
Can you share her engagement story with Tim Loden?
Their engagement was kept private, and she revealed it publicly in 2017.
Which fashion brands has she modeled for?
Yvonne Strahovski has collaborated with various high-end fashion brands.
Is she active on social media?
Yes, she frequently shares moments from her life on social media platforms.
Do her fans have a special nickname?
Yes, her fans often go by the name "Strahotskians."
How does she describe her Australian roots?
Yvonne Strahovski values her Australian heritage and remains grounded despite her international success.
Conclusion
In summary, Yvonne Strahovski is an accomplished Australian actress known for her diverse roles. From "Chuck" to "The Handmaid's Tale," her acting prowess shines. Beyond the spotlight, she champions animal rights and philanthropy. Her modeling career and beauty have also left an impact. While she maintains privacy in her personal life, she remains a respected Hollywood figure, admired for her talent and advocacy.