Who is Timothy Olyphant?
Timothy Olyphant is a renowned American actor, acclaimed for his captivating renditions in both movies and television. Born on May 20, 1968, in Honolulu, Hawaii, Olyphant's career skyrocketed when he portrayed Sheriff Seth Bullock in the highly acclaimed HBO series "Deadwood" (2004-2006). This iconic role earned him widespread critical acclaim and established him as a prominent figure in the entertainment world.
Olyphant's professional journey resumed to flourish with his involvement in different cinematic and television projects.
Recognized for his extraordinary magnetism and acting prowess, Olyphant has successfully taken on both heroic and villainous roles, showcasing his remarkable versatility. He has sustained a profitable career in the entertainment industry by expertly juggling television and film projects. Timothy Olyphant's talent and captivating on-screen presence have firmly established him as a respected and accomplished actor, making him a notable figure in Hollywood.
Early Life of Timothy Olyphant
Timothy Olyphant, born on May 20, 1968, in Honolulu, Hawaii, grew up in an environment shaped by his mother's career as a college teacher and his father's work in the wine industry. His formative years in Modesto, California, included attending Modesto High School, where he initially nurtured his passion for acting.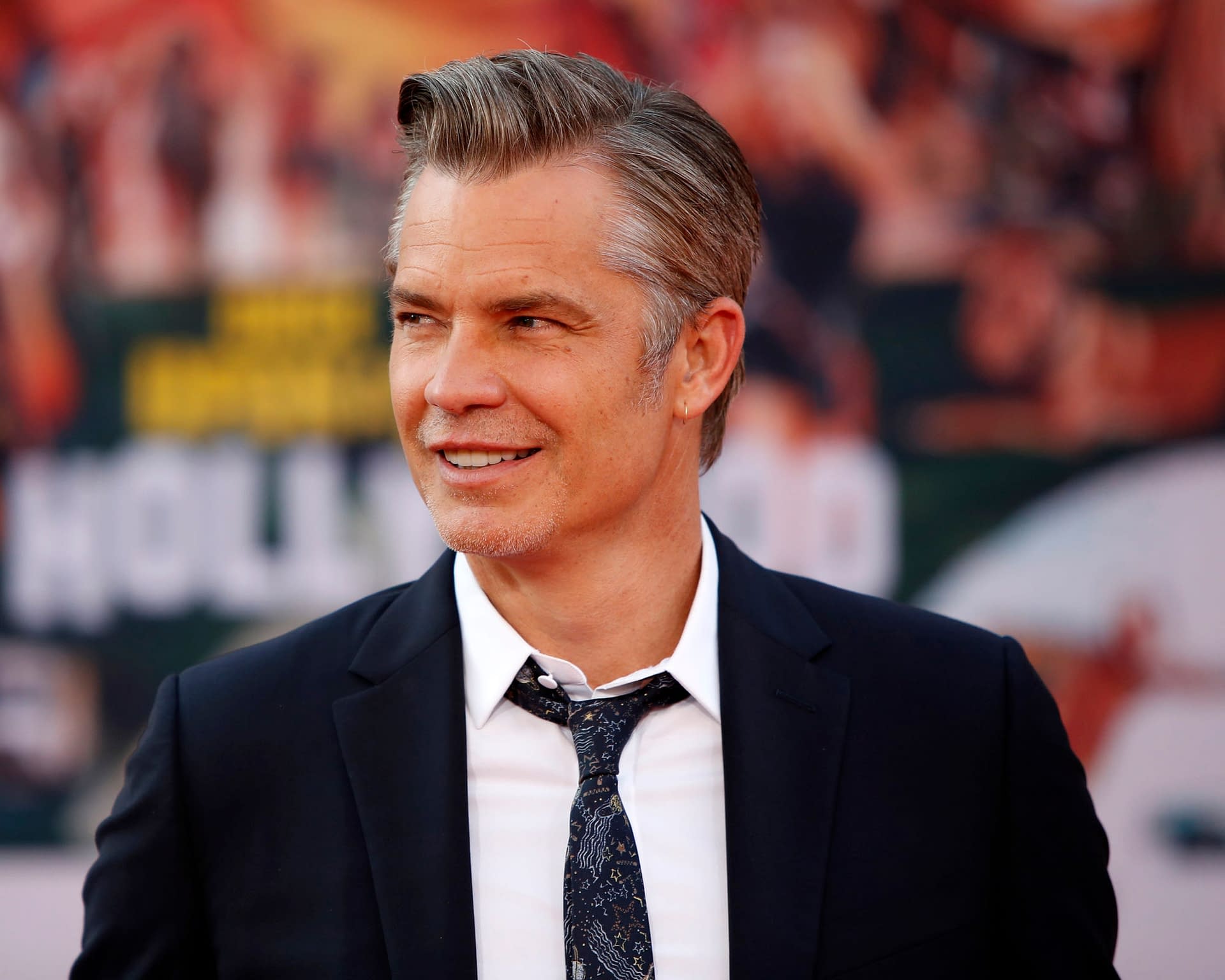 Post high school, he pursued an acting path, enrolling in theater studies at the University of Southern California (USC). During his USC years, Olyphant's commitment to acting began to shine, foreshadowing his future achievements. Subsequently, he ventured to New York City to explore acting opportunities and gain valuable stage experience.
The Career of Timothy Olyphant
Timothy Olyphant's career has spanned across various mediums within the entertainment industry, from television to film. His journey to success is marked by a series of notable roles and versatile performances.
One of Olyphant's standout moments occurred when he took on the role of Sheriff Seth Bullock in the HBO series "Deadwood" (2004-2006). His portrayal of the tough and principled lawman garnered widespread acclaim and catapulted him into the spotlight, firmly establishing him as a talented actor within the industry.
Following the triumph of "Deadwood," Olyphant ventured into television once again, this time as the iconic U.S. Marshal Raylan Givens in "Justified" (2010-2015). This character allowed him to showcase his range as an actor, earning him critical praise and even a Primetime Emmy nomination. His charismatic and compelling performance was a testament to his versatility.
Beyond his on-screen achievements, Olyphant has sustained a prosperous and enduring career, effectively juggling both television and film projects. His seamless adaptation to different genres and characters has garnered him admiration from peers and viewers alike.
Personal Life of Timothy Olyphant
Timothy Olyphant guards his personal life closely, maintaining a discreet profile despite his prominence in the entertainment sphere. He cherishes his family's privacy and avoids the glare of the media.
Olyphant has been married to Alexis Knief since 1991; they met during their college years. The couple shares three children: a daughter named Grace and two sons, Henry and Vivian. Their family life remains largely shielded from public scrutiny, and Olyphant is known for being fiercely protective of his children's anonymity.
Beyond his acting career, Olyphant's interests include an ardent passion for sports, particularly competitive tennis. He has also quietly engaged in philanthropic efforts, lending support to causes such as cancer research and disaster relief initiatives.
Physical Statistics of Timothy Olyphant
| | |
| --- | --- |
| Height | 6'1″ (185 cm) |
| Weight | 175 lbs (79 kg) |
| Hair Color | Dirty blonde |
| Eye Color | Blue |
| Shoe Size | 10 US |
| Chest Size | 40 inches (102 cm) |
| Waist Size | 32 inches (81 cm) |
| Bicep Size | 14 inches (36 cm) |
Net Worth of Timothy Olyphant
Timothy Olyphant is an American actor who has a net worth of $20 million. Timothy Olyphant began his career as a stage actor in off-Broadway productions and eventually became known for a broad range of film formations, earning a reputation for playing villains.
Interesting Facts about Timothy Olyphant
– Considered a professional swimmer before pursuing acting.
– Briefly studied at Harvard University.
– A passionate tennis player.
– Started his acting career with a guest role on "The New Lassie" in 1987.
– Deep appreciation for Western genre roles.
– Married to Alexis Knief since 1991 and has three children.
– Met his wife during college at the University of Southern California.
– Versatile actor known for playing lawmen, tough guys, and charming villains.
– Starred in Netflix's "Santa Clarita Diet."
– Collaborated with writer/producer Graham Yost on multiple projects.
FAQs about Timothy Olyphant
When and where was Timothy Olyphant born?
Timothy Olyphant's birthdate is May 20, 1968, and he was born in Honolulu, Hawaii.
Which role is Timothy Olyphant most famous for?
He gained fame for playing Sheriff Seth Bullock in the TV series "Deadwood."
Has Timothy Olyphant received any awards for acting?
Yes, he earned critical acclaim and a Primetime Emmy nomination for his role as Raylan Givens in "Justified."
Is Timothy Olyphant currently married?
Yes, he has been married to Alexis Knief since 1991, and they have three children together.
Apart from "Deadwood" and "Justified," what other TV series has he been a part of?
Olyphant had a significant role in the Netflix series "Santa Clarita Diet."
What are some of Olyphant's hobbies and interests outside of acting?
He enjoys tennis and has participated in celebrity tennis tournaments.
Has he collaborated with Graham Yost on any projects?
Yes, Timothy has worked with Graham Yost on both "Justified" and "The Crazies."
What was his first film role?
He made his film debut in the 1996 movie "The First Wives Club."
Did he consider a different career before pursuing acting?
Yes, he contemplated a career in professional swimming before choosing acting.
What is Olyphant's estimated net worth?
His estimated net worth, is around $20 million.
Conclusion
Timothy Olyphant, an actor of tremendous skill and charm, has left a continuing belief in the realm of entertainment. His diverse positions, from the lawman Raylan Givens in "Justified" to the enigmatic hitman, have enthralled audiences across film and television. His unconquerable presence in Hollywood is a testament to his talent and unremitting popularity, solidifying his position among the industry's elite. Timothy Olyphant's contributions to entertainment remain significant, with a lasting impact that transcends mere recognition.