Who is Anna Kournikova?
Anna Kournikova is a former Russian athlete widely recognized for her dual identity as a tennis player and a model. Born on June 7, 1981, in Moscow, Russia, she made her mark in the late 1990s.
Although her singles career didn't yield any Women's Tennis Association (WTA) titles, she excelled in doubles, forming successful partnerships with various players, notably clinching Grand Slam victories alongside Martina Hingis at the Australian Open in 1999 and 2002.
Kournikova's global prominence extended well beyond her sporting prowess. Her striking appearance and personal magnetism catapulted her into the world of modelling and media. This dual career made her a constant presence in magazines and numerous other public platforms, elevating her celebrity status.
Despite her early exit from professional tennis due to physical setbacks, Anna Kournikova remains an enduring symbol in both the sports and entertainment realms. Her legacy transcends the tennis court, cementing her status as an iconic figure with far-reaching influence.
Early Life of Anna Kournikova
Anna Kournikova was born on June 7, 1981, in Moscow, Russia. Her family background was anchored in a commitment to physical fitness and athleticism. Her father, Sergei Kournikov, excelled in the field of sports, and her mother, Alla, was known for her involvement in athletic instruction.
From a very early age, Anna displayed exceptional talent in a particular sport, which she began to hone at the age of five. By the age of eight, her precocious abilities were evident, leading her to engage in rigorous training at Moscow's Spartak Tennis Club. Realizing the immense potential in their daughter, her family decided to relocate to the United States in the early 1990s to provide her with better opportunities for pursuing her chosen discipline.
In the United States, Anna Kournikova continued to ascend the ladder in junior-level tennis competitions, securing several accolades. Her distinct allure and magnetic persona began attracting considerable attention, both inside and outside her sport, even before her official transition into the professional realm.
The early years of Anna's life were marked by an unwavering commitment to excel in her sport, while her innate charisma, combined with her growing skill, laid the foundation for her future as an internationally renowned figure in the spheres of athletics and fashion.
The Career of Anna Kournikova
Anna Kournikova's professional trajectory unfolded within the world of tennis during the late 1990s and early 2000s. Her career, however, was notable not only for her prowess on the court but also for her emergence as a global icon, blending sport and style seamlessly.
Anna made her entrance onto the Women's Tennis Association (WTA) tour in 1995, commencing a professional journey that would be a study in duality. While she never clinched a singles title during her tennis career, she made an indelible mark in the world of doubles, most notably when she paired with the Swiss sensation Martina Hingis.
This partnership, often affectionately referred to as the "Spice Girls of Tennis," yielded several impressive wins, including Australian Open doubles titles in 1999 and 2002. Their chemistry on the court, coupled with their excellent teamwork, earned them a fearsome reputation in the world of doubles tennis.
Kournikova's prowess in the doubles category was recognized on a global scale as she ascended to the coveted World No. 1 ranking in doubles in 1999. Throughout her career, she consistently held a top position in the rankings, underscoring her status as a doubles specialist.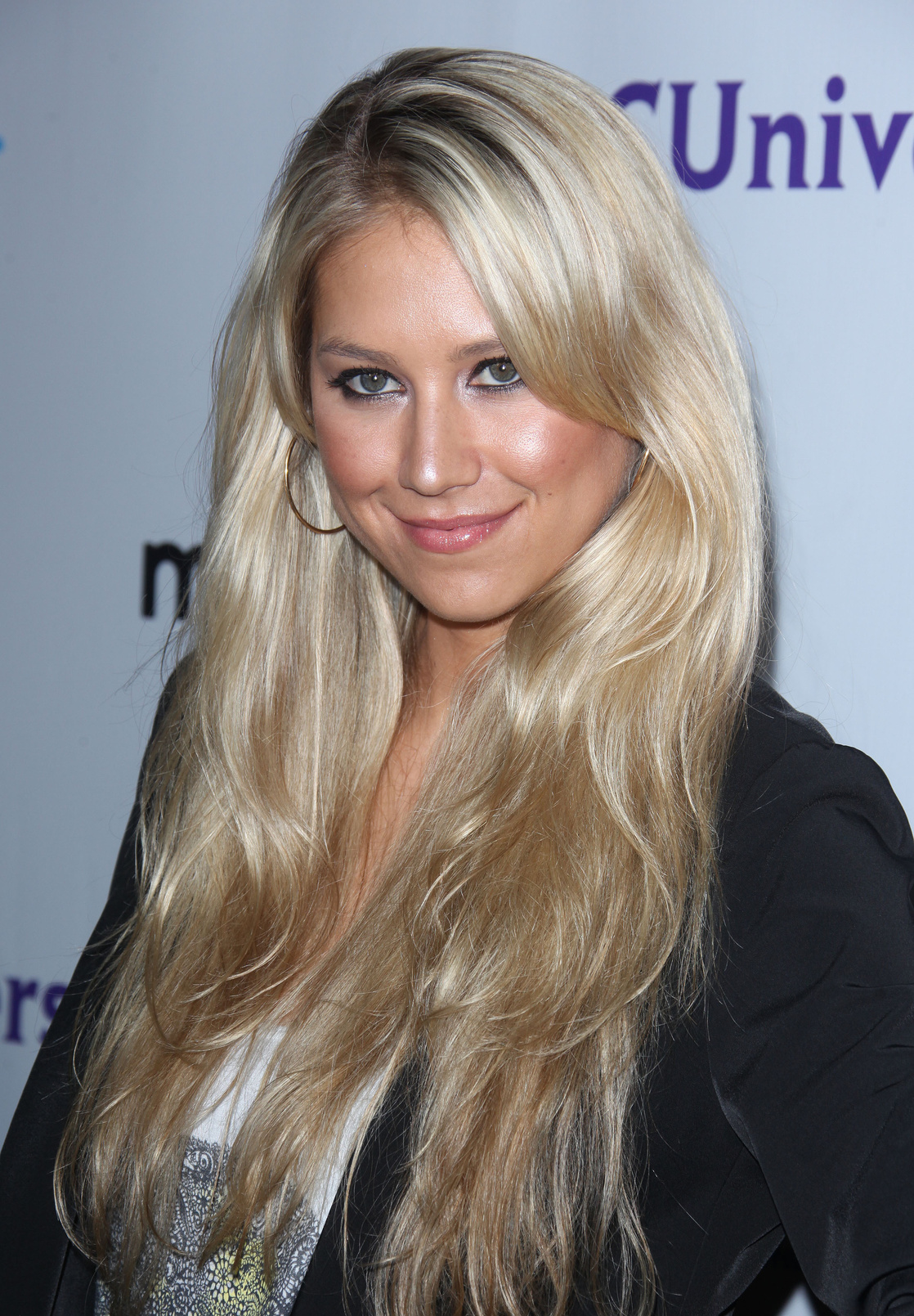 Off the court, Anna Kournikova's magnetic appeal transcended the confines of the tennis court. Her striking physical appearance and undeniable charisma made her a sought-after personality. Magazine covers and fashion spreads became her domain, establishing her as a bona fide fashion icon. Kournikova's influence extended far beyond sports, as she morphed into a prominent figure in popular culture and entertainment.
Despite her undeniable success, a series of injuries curtailed her singles career, ultimately leading to her retirement in 2003. However, Anna Kournikova's legacy persisted.
She left an indelible mark on tennis, fashion, and the broader entertainment world. Her journey served as a testament to the fusion of sports and glamour, and she continues to inspire future athletes and models alike, transcending the boundaries of her time on the tennis court.
Personal Life of Anna Kournikova
Anna Kournikova's personal life has been a source of curiosity for the public for years. In the early 2000s, she became known for her high-profile relationships, notably with Spanish singer Enrique Iglesias.
They began dating in 2001 and have managed to maintain a largely private personal life, despite frequent media attention. The couple's relationship endured, and in 2017, they welcomed twins, a boy and a girl, whose names are Nicholas and Lucy.
Anna's commitment to her family has become more pronounced in recent times. She is known for her inclination to keep her personal life away from the public eye. Even though their fame makes them a subject of interest, she and Iglesias have successfully shielded their family life from the intrusive media, occasionally offering glimpses on their own terms through social media.
Anna Kournikova maintains strong connections with her Russian roots, cherishing her family, particularly given her father's sporting background. She also remains associated with the tennis world through occasional participation in charity events and exhibitions.
Anna's personal life has evolved, but her dedication to family remains central, and she continues to shroud her private life from public scrutiny, focusing on her children her enduring bond with tennis and her dedicated fan base.
Physical Statistics of Anna Kournikova
| | |
| --- | --- |
| Height | 5'8″ (173 cm) |
| Weight | 123 lbs (56 kg) |
| Eye color | Hazel |
| Hair color | Blonde |
| Date of birth | June 7, 1981 |
| Place of birth | Moscow, Russia |
| Nationality | Russian |
| Residence | Miami, Florida, USA |
| Turned pro | 1995 |
| Retired | 2003 |
| Playstyle | Right-handed (two-handed backhand) |
| Singles career record | 209–129 |
| Highest singles ranking | No. 8 (November 20, 2000) |
| Grand Slam singles results | Best result: Semifinalist at Wimbledon (1997) |
| Doubles career record | 200–71 |
| Highest doubles ranking | No. 1 (November 2, 1999) |
| Grand Slam doubles results | Won Australian Open (1999, 2002) |
| Other notable titles | Won WTA Championships (1999, 2000) |
Net Worth of Anna Kournikova
Anna Kournikova's financial standing is a matter of intrigue, with estimates suggesting a net worth ranging between $50 million and $100 million. Her wealth primarily originates from her tennis career, which, despite no singles titles, earned her substantial prize money, and her striking looks led to numerous lucrative endorsements.
Kournikova's prowess on the tennis court, especially in doubles, contributed significantly to her income. Moreover, her celebrity status as a fashion icon and her appearances on magazine covers led to high-value endorsement contracts with major brands such as Adidas and K-Swiss. These deals augmented her overall financial worth.
Additionally, her enduring relationship with singer Enrique Iglesias, who possesses substantial wealth himself, also plays a role in bolstering their combined financial stability.
Interesting Facts about Anna Kournikova
– Started playing tennis at age 5, turned pro as a young prodigy.
– Excelled in doubles, reached World No. 1 ranking with Martina Hingis.
– Known as the "Spice Girls of Tennis" with Hingis.
– Became the youngest Grand Slam champion when she won the 1999 Australian Open doubles.
– Recognized as a fashion icon, endorsed numerous brands, and graced magazine covers.
– Frequent injuries led to her retirement from professional singles tennis in 2003.
– Multilingual, fluent in Russian, Spanish, and English.
– Engaged in charitable work, supporting the Boys & Girls Clubs of America.
– In a long-term relationship with Enrique Iglesias since 2001, with twins.
– Made a guest appearance on "The Biggest Loser" and competed on "Dancing with the Stars."
– Worked as a coach for "The Biggest Loser" contestants.
– Animal lover and advocate for animal welfare.
– Despite no singles titles, earned respect from fellow tennis players.
– Maintains a private personal life, rarely sharing details with the media.
FAQs about Anna Kournikova
What is Anna Kournikova known for in the world of sports?
Anna Kournikova is recognized for her tennis career, particularly in doubles, and her iconic looks.
Did Anna Kournikova win any Grand Slam titles in singles?
No, she did not secure any Grand Slam singles titles during her tennis career.
Who was her famous doubles partner in tennis?
She notably partnered with Martina Hingis in doubles, gaining significant success.
How did Anna Kournikova establish herself as a fashion icon?
Her distinct appearance and style led to modelling contracts, endorsements, and magazine features.
When did she retire from professional tennis?
Anna Kournikova retired from professional tennis in 2003 due to injuries.
Who is Anna Kournikova's long-term partner?
She has been in a long-term relationship with Spanish singer Enrique Iglesias since 2001.
Has Anna Kournikova made appearances on TV shows unrelated to tennis?
Yes, she appeared as a trainer on "The Biggest Loser" and participated in "Dancing with the Stars."
In how many languages is Anna Kournikova fluent?
Anna is fluent in multiple languages, including Russian, Spanish, and English.
Is Anna Kournikova involved in charity work?
Yes, she is engaged in various charitable activities, supporting organizations like the Boys & Girls Clubs of America.
How does Anna Kournikova maintain her privacy despite her public image?
Anna Kournikova keeps her personal life private and rarely shares details with the media, allowing her to lead a low-profile existence.
Conclusion
Anna Kournikova's life and journey encompass a captivating blend of athleticism, allure, and discretion. Her tennis career, primarily in doubles, showcased remarkable talent and the creation of a legendary partnership with Martina Hingis. While she didn't secure singles Grand Slam titles, Kournikova achieved the pinnacle in doubles and held the World No. 1 ranking.
What sets her apart is not just her sporting achievements but her transcendence into the realms of fashion and entertainment. She emerged as a global fashion icon, gracing coveted magazine covers and landing lucrative endorsements, propelled by her magnetic charisma.
Anna's personal life, notably her enduring relationship with Enrique Iglesias and parenthood, has remained notably concealed from the public gaze, reflecting a rare commitment to privacy.
In sum, Anna Kournikova's legacy extends far beyond the tennis arena. She embodies the fusion of athleticism and glamour, offering inspiration to those aspiring to excel in diverse domains. Her distinctive journey, marked by discretion amidst notoriety, establishes her as a captivating and enigmatic figure in the worlds of sports and entertainment.